Chipola Indians Advance to Final Four in National Tournament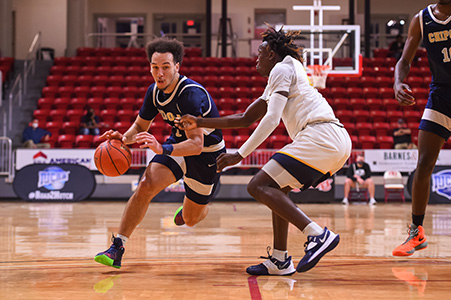 The Chipola men's basketball team is heading to the final four after a down-to-the-wire victory over Indian River 78-75 on Thursday, April 22.

The Indians will take on Coffeyville Friday, April 23, at 7 p.m. in the Final Four.

Chipola led for only two minutes of their quarterfinal game against Indian River but it was all the Indians needed. Chipola came away with an exciting 78-75 come-from-behind win to survive and advance to the Final Four.
Indian River led at the half, 41-37. The Indians trailed nearly all of the second half until a Carlos Lemus three-pointer gave them the lead, 72-70, with 2:20 left in the game. Lemus was fouled and made both free throws to push the lead to 74-70.

The Pioneers refused to fade away coming back with a three-pointer of their own and then took the lead, 75-74, on two free throws at the 1:08 mark. Lance Erving took a pass from Jaeden Zackery and was fouled as he drove to the basket. Erving made one of two free throws to even the score at 75-75.

The Pioneers tried to attack on their end of the court but Naheem McLeod blocked an attempt at a layup to give the Indians the ball with 40 seconds remaining. Following a Chipola timeout, Jaeden Zackery capped off his 24-point performance with a drive toward the baseline and drained a jump shot from the right side to give the Indians the lead, 77-75.

The Indians put the game away after a traveling call on the Pioneers with ten seconds. Chipola inbounded the ball to Nae'Qwan Tomlin for a dunk but he was fouled with 3.1 seconds remaining and he made one free throw giving the Indians the 78-75 victory.

Zackery had a season-high 24 points. He was 9-of-13 from the floor, including 2-of-2 from behind the arc and all four of his shots from the free throw line. "JZ" also tied a career-high with eight assists and six steals. Two other players had double-digit performances for the Indians. Lance Erving came off the bench to for 14 points. Nae'Qwan Tomlin poured in 10 for the Indians.

The Chipola Indians used a strong defensive performance to defeat Shelton State 73-60 on Wednesday and move on to the quarterfinals.

Games are pay-per-view on NJCAA TV at https://stats.njcaa.org/network or follow
#NJCAAmbb on Twitter. The tourney runs through April 24 with the championship game set for 6 p.m. For information, visit: https://www.njcaa.org/championships/sports/mbkb/div1/index and www.chipolaathletics.com.