Chipola Lady Indians Advance in National Tourney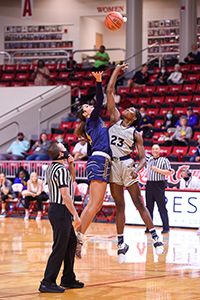 The Chipola College Lady Indians will return to the Final Four of the NJCAA D1 Women's Tournament for the first time since 2015 when they went on to win the Championship.

Chipola plays Trinity Valley Friday, April 23, at 6 p.m. with the winner moving on to the National Championship game on Saturday, at 3 p.m.

Chipola's rival Northwest Florida is also in the final four, facing Three Rivers on Friday and setting up a possible fifth meeting with Chipola if both teams advance to the championship. The Lady Indians and Lady Raiders met four times in conference play with Chipola winning just one of those matchups.

In Thursday's 55-49 win over Tyler, Chipola trailed 40-36 late and needed someone to step up in the fourth. Just one night after a big three-pointer at the buzzer from Shimei Muhammad, this time, sophomore De'Myla Brown made sure there would be no need for late heroics. She scored 13 of her game-high 27 points in the final period.

With 7:31 remaining, Brown's jumper put the Lady Indians up for good and went on to push the lead to 10 in the waning moments of the game. Free throws haunted the Lady Indians in the previous night's fourth quarter, but Chipola was a solid 6-of-8 in the final period.

"The kids got away from running our stuff there for a little bit in the middle of all that, but we got back to doing what we do best and going with our own identity," Chipola head coach Greg Franklin said. "You can't do anything different when you get out here. I think that's usually the team that winds up winning it all is the one that keeps its identity once they get out here. We'll have to make some adjustments because Trinity Valley is a good club."

The last time the Lady Indians lost a game at the National Tournament was to Trinity Valley. Trinity defeated Chipola, 65-60, in the quarterfinals in 2017, the Lady Indians' last appearance in the tournament. The #2 seed and eight-time national champion Cardinals advanced to the Final Four after defeating #7 seed Shelton State, 70-62, in the quarterfinals.

Games are pay-per-view on NJCAA TV at https://stats.njcaa.org/network The championship game of the national tourney is Saturday, April 24, at 3 p.m. CST.

For more information visit: https://www.njcaa.org/sports/wbkb/2020-21/div1/national_championship/index or www.chipolaathletics.com. On Twitter, follow @NJCAABasketball or @NJCAALubbock.