Chipola Plays Wednesday, April 21, in Men's National Tourney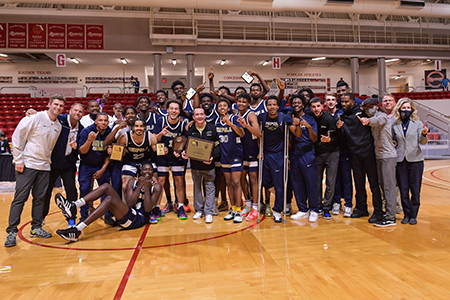 The Chipola College Indians will play in the NJCAA National Tournament in Hutchinson, KS, Wednesday, April 21, at 8 p.m. CST, against the winner of Shelton State and Northeastern.
Games are pay-per-view on NJCAA TV at https://stats.njcaa.org/network or follow
#NJCAAmbb on Twitter.
The tourney runs through April 24 with the championship game set for 6 p.m.
Chipola earned a berth to nationals by capturing the 2021 FCSAA State Championship with an 88-75 victory over Indian River State College on April 10.
Tournament MVP Jaeden Zackary leads the Indians into battle with three fellow players on the State All-Tournament Team—Lance Erving, Carlos Lemus and Nae'qwan Tomlin. First year Chipola Coach Donnie Tyndall was named FCSAA Coach of the Year.
For information, visit: https://www.njcaa.org/championships/sports/mbkb/div1/index and www.chipolaathletics.com