Chipola Softball Wins State Championship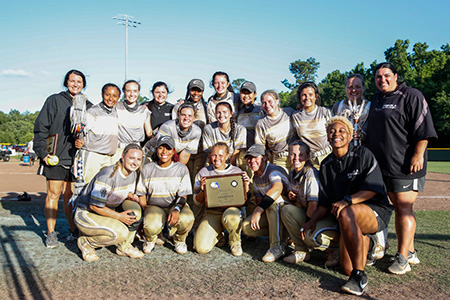 LONGWOOD, FL—The Chipola College Lady Indians scored a 4-3 win over Indian River to capture the FCSAA State Softball Championship on May 9.
Leigha Kirby worked a perfect bottom half of the extra eighth inning to send the Lady Indians back to the NJCAA National Tournament to defend their 2019 title after missing that opportunity in 2020 due to the COVID-19 pandemic.
After the Lady Indians went down quietly in the first, Indian River took an early 1-0 lead. Chipola starter and Tournament MVP, Zayla McBurrows, struck out the next Indian River batter and then ended the threat with a fly to centerfield.
Kinzie Nelson led off the second inning for Chipola with her second home run of the weekend. With one out, Natalie Kopicova drew a walk and stole second to get into scoring position for Sierra Jevyak who hit a line drive single in to right centerfield to bring in Kopicova and give Chipola the 2-1 lead.
The Lady Indians weren't finished in the second as Marley Sims singled and Madisyn Riggins walked to load the bases. Pinch hitter Tammie Lijbers hit a ground ball to the right side of the infield to plate Sims and put the Lady Indians up 3-1.
Indian River cut the deficit in half in the bottom of the second. Shayne Hewitt reached on a lead-off walk, stole second, and moved to third on a ground ball out to short.
The score remained 3-2 until the Pionners' half of the fifth inning. Back to back lead off walks and a single by Maeghan Branche tied the score as Daija Torche came around to score. The Pioneers moved up to second and third on the throw to the plate to give Indian River two runners in scoring position with no outs.
Panhandle Conference Pitcher of the Year, Leigha Kirby, who came on in relief in the fourth, struck the next two Indian River batters out before a line drive to short stop Marley Sims ended the threat. Kirby was the winning pitcher for Chipola throwing five innings in relief of starter Zayla McBurrows. Kirby allowed only one run on two hits and struck out three to mover her record to 7-4 on the season.
Chipola also beat Central Florida (9-5) and Florida Southwestern (6-3) to make it to the championship game of the state tournament.
The Lady Indians will make their sixth consecutive appearance at the NJCAA National Tournament in Yuma, Arizona, on May 25-29. This is Chipola's seventh trip in the last eight tournaments, and the ninth appearance for Head Coach Belinda Hendrix.