Indians Finish in Final Four of National Tourney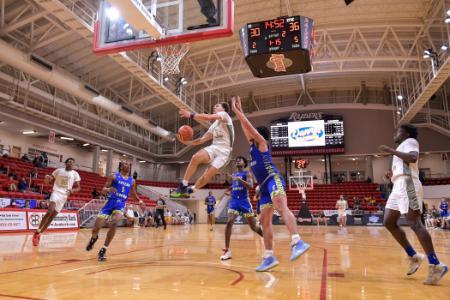 The Chipola Indians' season ended in the final four of the NJCAA National Tournament with a 66-63 loss to Coffeyville on April 24.
Chipola overcame a 14-point second half deficit and took the lead with two minutes in the game but could not hold on. The Indians led much of the first half and had a 29-28 lead at the break. The Red Ravens went on a 14-2 run to open the first five minutes of the second.
With just under 13 minutes remaining in the game, the Indians went on a 14-0 run of their own to tie the score 47-47. With 2:02 remaining in the game, Carlos Lemus drove to the basket for a layup to put Chipola up 62-61, It would be the last lead the Indians would have on the night. The Indians would go on to miss 3-of-4 free throws in the last two minutes and turn the ball over with 10 seconds remaining, down by two.
Carlos Lemus tied a season-high of 27 points in the loss. Jaeden Zackery finished with another stellar performance in the NJCAA Tournament, scoring 17, his ninth consecutive game scoring in double figures.
Chipola made it to the final four with a 78-75 win over Indian River on April 22. The Indians also beat Indian River 88-75 on April 10 to take the FCSAA State men's state title.
The Indians used a strong defensive performance to defeat Shelton State 73-60 on April 21 to advance to the quarterfinals of the national tourney.
The Indians finished 23-5 on the year and won the Panhandle Conference title and the FCSAA State Championship in Coach Donnie Tyndall's first season. Tyndall was named FCSAA Coach of the Year. State Tournament MVP Jaeden Zackary joined three fellow Chipola players on the State All-Tournament Team: Lance Erving, Carlos Lemus and Nae'qwan Tomlin. Zackary also was named to the NJCAA All-Tournament Team.
Chipola has 14 FCSAA men's state titles, more than any other college in Florida.