Lady Indians Finish in Final Four of National Tourney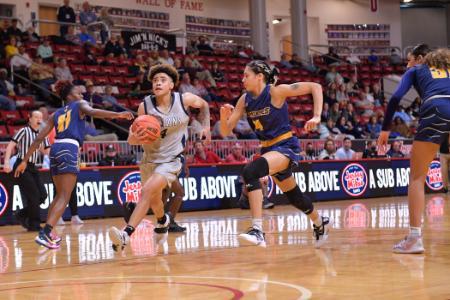 The Chipola College Lady Indians finished in the Final Four of the NJCAA National Basketball Tournament with a 77-66 loss to Trinity Valley on April 23.
Chipola's De'Myla Brown and Jordan McLaughlin both were named to the NJCAA All-Tournament team. McLaughlin scored in double figures in all three tournament games, capped off by a season-high four three-pointers against Trinity Valley. Brown finished the season with a streak of 19 games scoring in double figures.
The Lady Indians' quest for a second national championship came to an end in the semi-final game against Trinity Valley, who went on to lose to Northwest Florida State in Saturday's championship game. The last time the Lady Indians lost a game at nationals was also to Trinity Valley in 2017.
Chipola simply couldn't chip away enough in the second half after falling behind 40-22 at halftime. Trinity pushed the lead to 50-30 with 6:15 to play in the third. Chipola rallied with a 9-1 run to cut the deficit to at 51-39, and a 3-point goal by Jordan McLaughlin just before the quarter ended had the Indians down 57-44. Chipola got within 12 points late in the game.
Trinity forced 19 turnovers and held Chipola leading scorer De'Myla Brown to 16. She came into the tournament averaging 20 points per game. McLaughlin led the Indians with 21 points and Sousa added 13.
In the April 22 (55-49) win over Tyler, Chipola trailed 40-36 late, but De'Myla Brown took control, scoring 13 of her game-high 27 points in the final period.
On April 21, Chipola led by as many as 19 but needed a three-pointer from freshman Shimei Muhammad at the buzzer to defeat Eastern Arizona 71-68 in the second round game.
This was Chipola's ninth NJCAA Tournament appearance. The Lady Indians finished the season with a 20-5 record and their seventh FCSAA Championship, beating Gulf Coast State College, 55-45, to claim the 2021 State title. State Tournament MVP De'Myla Brown joined three other members of the State All-Tournament team: Isadora Sousa, Jordan McLaughlin and Shimei Muhammad.
Chipola head coach Greg Franklin was named the FCSAA Coach of the Year. In his ninth season at Chipola, Franklin has accounted for 3 state championships with 2 second place finishes and a national title in 2015.