Chipola Alumni Spotlight Jessica Crisp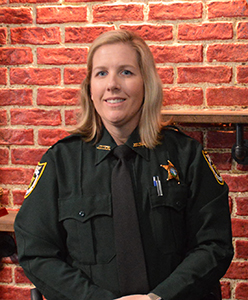 Jessica Crisp, a graduate of the Chipola College Law Enforcement Academy, was recently promoted to lieutenant in the Uniform Patrol Division of the Jackson County Sheriff's Office.

Crisp earned her Basic Recruit Certification and later returned to Public Service to earn certifications in General Instructor, Vehicle Operations, First Aid and Taser. Her favorite Chipola instructor was Steven Stewart, Law Enforcement Coordinator and her favorite class was firearms.

Crisp said she decided to go into law enforcement when she saw the program advertised on the college's electronic sign. As she began the academy, she started doing ride-a-longs with the Jackson County Sheriff's Office and realized this was her true passion.

When asked what she would say to someone considering enrolling at Chipola, Crisp said, "I would encourage anyone, regardless of their career path, to choose Chipola. The instructors want every student to succeed and treat you like more than just a body in a seat. My instructors have followed my career since leaving the academy and have been invested in my success since the day I started and still are. Every student at Chipola College can expect this same investment in their education."

Crisp plans to focus on her new position at the Sheriff's Office while learning as much as she can about law enforcement with the hopes of one day becoming patrol captain.