Chipola Class of 2022 Graduates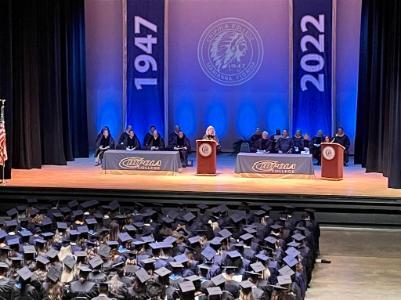 Some 444 students were eligible for graduation at Chipola College at the end of the spring semester. The Chipola college commencement ceremony was held on Thursday, May 5, at 7 p.m. in the Dothan Civic Center.
Counted as members of the class are all who completed their degrees or vocational certificates from December of 2021 to May of 2022 or who will complete work at Chipola during the Summer of 2022.
The class includes the following, listed according to type of degree and hometown:
Bachelor of Science Degrees
Alford—Karissa Haddock.
Altha—Breeanna Bennett, John Roberts.
Bascom—Lindsey Casey, Emily Stephens.
Blountstown—Brittany Jones, Jherico Jones, Marissa Lewis, Ashley Lytle.
Bonifay—Cynthia Bell, Nathanael Douceur, Jared Driscoll, Colt Gardner, William Gould, Annalia Hornsby, Hollye Jenkins, Toni Sellers.
Bristol—Cassidy McDaniel, Mary Steverson.
Chipley—Addie Cook, Kaylee Jeffries, Crystal Wedderburn.
Cottondale—Desarae Grissett, Anna Obert, Abby Todd.
Graceville—Kaitlyn Barnes, Mallory Bell, Diana Ramirez, Ansley Tate, Alexus Williams, Christavious Works.
Grand Ridge— Dak Tung Darbyshire, Ashlyn Goodson, Amanda Wilkes.
Greenwood—Cassie Brown, Demontray Edwards.
Hosford—Duncan Hosford.
Kinard—Holley Bailey.
Marianna—Logan Baxley, Sadie Baxley, Kristen Chambliss, Kaytlin Harris, Ozzieanna Holden, Ugreenal Ivey, William Johnson, Sherri Lipford, Mary Mason, Shelby Mathis, Lacey O'Neal, Cricket Player, Kayla Roberts, Jessica Thomas, Nevin VanHuss, Tyler Watson, Joshua Wynn.
Sneads—Amanda Chance, Bridgit Owens, Mikayla Rabon.
Westville—Hayden Cooey, Austin Strickland.
Out-of-District— Djimon Gray of Chattahoochee; Samantha Rabon of Chattahoochee; Kirsten Smith of Chattahoochee; Brianna Steverson of Chattahoochee; Caroline Doughty of Panama City; Toreno Miller of Quincy; Jeremy Porter of Quincy; Jamie Releford of Tallahassee; Stephanie Gamber of Dothan, Ala.; Christina Smith of Dothan, Ala.; Colby Tanner of Dothan, Ala.; Tara Johnson of Gordon, Ala; Emily Williams of Wetumpka, Ala; Brashante Dareus of Freeport, British Columbia, Canada.
Associate in Arts Degrees
Alford—Allie-Anne Barrick, Emily Chambliss, John Cowart, Sommer Gurganus, Kenneth Thomas.
Altha—Abrey Johnson, Bailee Miller, Cristina Norris, Addison O'Bryan, Deveni Pena, Haylee Reisen, Gabriel Short, Haley Smith, Morgan Yoder.
Bascom—Abbie Barnes.
Blountstown—Cherrie Booth, Vickie Daniels-Speights, Emma Deason, Abby Ham, Allyson Mears, Melissa Monlyn, Noah Parramore, Haley Pelt, Maria Rebollar, Madelyne Taylor-Ebersole, Kaleb Todd, Deshaun Williams, Destiny Williams, Jeffrey Williams.
Bonifay—Shyan Sandy, Bryce Etheridge, Alaina French, Casey French, Cheyenne Glass, Kara Justice, Kaden Kolmetz, Kenzlie Kolmetz, Morgan Lee, Ethan Lemieux, Sajon Sawyer, Michael Sims, Pazleigh Steverson, Cynthia Vallejos.
Bristol—Meredith Barber, Carlee Branch, Niya Bright, Andrew Goff, Selena Jimenez, Auslinn Shuler.
Campbellton—Jonay Jones, Kieric Wilson.
Chipley—Rondreeka Campbell, Scarlette Clark, Olivia Floyd, Jonathan Gavaller, Jameila Hogan, Gabriel Jimenez, Jordan Johnson, Anzli Laurel, Brennan Louderback, Lindsay Moore, Kinzie Nelson, Magnus Ostrowski, Sara Padgett, Mary Potter, Honor Rogers, Krista Shores, Sarah Smith, Karleigh Walters, Keegan Welch, Elijah Wells, Samantha Whitaker, Caleb Wiggins.
Clarksville—Caroline Hurst, Summer Stone.
Cottondale—McKenzie Gay, Alicia Gilbertsen, Jenna Gilmore, Harley Harris, Eliah Hooks, Merce'des Jackson, John Jones, Kasey Lathan, Destiny Metzler, Cassie Smith, Keyshawn Webb.
Cypress—Hannah Stephens.
Graceville—Joshua Birge, Aaron Davis, Beverly Earnest, Terra Jackson, Maria Jeffries, Marquavious Johnson, Cassidy Miller, Tristen Novonglosky, Rayana Watford.
Grand Ridge—Codi Nixon, Marissa Oliver, Jessica Wyckoff.
Greenwood—Briana Autman, Savanna Lewis, Karlee Mercer, Morgan Seay, Leanna Smith, Diamond Vann.
Hosford—Delaynee Cobb.
Kinard—Bryanna Jones.
Malone— Kaytlyn Gordon, Hannah Hart, Jonathan Proctor, Noah Shores.
Marianna— Amaya Baker, Gage Bannerman, Gabrielle Bess, Patrick Bethea, Reilly Blighton, Ede Bonin, Lorin Castleberry, Mark Clikas, Hannah Collins, Gwyneth Davis, Chelsea Gardner, Ellery Glass, Chastity Gokey, Brayden Harrell, Danesha Harris, Jonathan Harris, Hailey Harrison, Richard Hermann, Amber Hoogdorp, Christine Johnston, Maggie Larkin, Lauren Martin, Tyreke McCalister, Jennifer McDaniel, Hailey McDonald, Jay-Hda McGriff, Rebecca Mercer, Virginia Milton, Josiah Neamtu, Nicholas Ni, Meagan Pelham, Morgan Raper,
Ronald Raper, Ksenia Riegle, Jarod Roney, Jahn Sanchez-Velez, Thomas Schaefer, Emily Seay, James Shores, Shayla Singer, Rachel Smith, Jadyn Stevens, Tristan Stewart, Deacon Temples, George Windsor, Asher Young, Taylor Young.
Sneads—Courtney Benton, Kilee Bowen, Mandalyn Chance, Dagen Davis, Jaden Kotch, Oceana Manbeck, Mallory McDaniel, Colton Mercer, Sean Reid.
Vernon—Karmin Compton, Alyssa Curlee, Brock Hodges, Cullen Hodges.
Westville—Tammy Watson.
Out-of-District— Elizabeth Carnley of Crestview; Jake Holland of Coral Gables; Zayla McBurrows of Lakes Wales; Sierra Jevyak of Tallahassee; Betty Downey, Olivia Ethridge and Cory Layton of Cottonwood, Ala.; Jailah Godwin, Merideth Jenkins and Tyler Jones of Dothan, Ala.; Zachary Rice of Fort Mitchell, Ala.; Dorian Chancey of Ozark, Ala.; Kristopher Gardner of Albany, Ga.; Bradley Grenkoski of Blairsville, Ga.; Ricky Coachman and Tiffany Peterson of Donalsonville, Ga.; Shepherd Hancock of Sharpsburg, Ga.; Marlee Sims of Gulfport, Miss.; Steven Lewis of Vicksburg, Miss.; Shimei Muhammad of Brooklyn, N.Y.; Carlos Lemus of Beaverton, Ore.; Ta'Shonna Wright Gaskins of Reading, Pa.; Cedric De Grandpre' of Canada City of St-Simon-de-Bagot, Quebec; Tucker Flint of East Greenwich, R.I.
Associate in Science Degrees
Altha—Anna Alday, Abbie Edenfield, Jibrail Rodriguez, Hayley Sapp.
Bascom—Krista McDaniel, Marsela Resendiz.
Blountstown—Emilee Holmes, Stephanie Jourdan, Bryce Lambeth, Rodney Newman, Shelby Roberts, Courtney Shuler.
Bonifay—Amber Hailes, Ashlyn Jenkins, Kodie King, Cassie Pate, Victoria Steverson.
Bristol—Clarissa Gordon, Jose Martinez.
Campbellton—Nina Nadery.
Chipley—Alice Holmes, Harley McDaniel, Alexis O'Neal, Keely Taylor, Hunter Terry.
Cottondale—Kali Jackson, Payton Melvin.
Fountain—Heidi Drawdy, Savannah Smith.
Graceville—Jerrai Young.
Grand Ridge—Mitchel Fontenot, Dalton Godwin, Jesika Howard, Robert Ramer.
Greenwood—Lauren Stone.
Hosford—Taryn Kirkland.
Malone—Ayla Land.
Marianna—Mallory Barber, Ashton Benton, Zannah Glisson, Janasia Hunter, Victoria Hunter, Alyssa Lewis, Morgan Lipford, Payton Melton, Jonathan Wickham.
Sneads—Mandalyn Chance, Ashtin McMullian, Sean Reid.
Westville—Jessica Hudson.
Out-of-District—Leisha Craven and Adrianna Garcia of Chattahoochee; Micah Pafford of Crawfordville; Alejandra Aviles and Guillermo Calderon-Aviles of Greensboro; Mariah Vinson of Havana; Taylor Clapp of Lake Worth; Lance Erving of Leesburg; Brittany Orme of Lynn Haven; Brandon Bullard and David Castillo of Miami; Rebecca Hambly of Palm Coast; Mary Phillips of Panama City; Nikeia Fenn of Port St. Joe; Marisol Manzano of Quincy; Jade Hardesty and Jessica Johnson of Tallahassee; Dylan Eskew of Tampa; Cesar Franco of Weston; Debbie Neal of Hartford, Ala.; David Shuemake of Taylor, Ala; Achor Achor of Stone Mountain, Ga.; Naeqwan Tomlin of New York, N.Y.; Faizon Fields of Cordova, Tenn.; Drew Howard of Bowmanville, Ontario.
Workforce Development Certificates
Alford—Tito Jones, Kodi Roberts.
Altha— Anna Alderman, Justin Cessna, Marijane Davis, Jaime Fuentes Trejo, Jacob Herrell.
Bascom— Ryan Anderson, Phillip Winget.
Blountstown—John Martineau, Ezekiel Nandho, Logan Pumphrey.
Bonifay—Nathaniel Johnson, Perry Wells.
Bristol— Madison Conyers, Mark Crosby, Ethan Miller.
Campbellton—Brienne Jenkins, Samantha Strength.
Carryville—Karlee White.
Chipley—Danielle Jones, Brandon Moore, Hunter Terry.
Cottondale—Blake Brown, Silvestre Morales, Haley Scurlock, Conner Vickery, Naquanna Wynn.
Graceville—Andrew Wheatley.
Grand Ridge—Jonathan Bachelier, Amanda Dudley, Colin Eubanks, Shayla Johnson.
Greenwood—Kinley Benefield, Tyler Henry, Andrew Sherman, Wesley Wiggins.
Hosford—Katelynn Shiver.
Malone—Timothy Dunaway, Travis Pickels.
Marianna—Iman Coleman, Samantha Cox, Brian Davis, Shana Davis, Jericka Glisson, Isaac Gonzalez, Daniel Hall, Clayton Hicks, Elijah Isabella, Alyson James, Jay Phelps, Colby Stephens, William Stewart, TyAnna White, Ashton Williams, Joshua Wilson, Ethan Keene.
Sneads—Madison Fears, Warren Loper, Kimberly Sanchez, Ta'laiya Terry.
Out-of-District—Shandreka Wiggins of Chattahoochee; Sarah Banks of Havana; Blake Wolf of Lynn Haven; Elise Armstrong of Panama City; Kenneth Richardson of Quincy; Jonah Lawhon of Sopchoppy; Taylor Brockhouse and DeMorio Waymon of Tallahassee; Adam Murphy of Wewahitchka; Trenton Deese of Cottonwood, AL; David George of Dothan, AL; Timothy Holley of Dothan, AL; Zachary Jong of Gordon, AL; Keiyuna Neal of Shorterville, AL; Sara Akins of Taylor, Ala; CrystalRose Albright of Webb, Ala.; Sharda Flemming of Moultrie, Ga.
College Credit Certificates
Bonifay—Chad Mayo.
Bristol—Ryan Ramer.
Cottondale—Samuel Williamson, Teresa Braxton.
Malone—Lezlie Burch.
Marianna—Stephen Chen, Hurley Perry, Ashion Ransom.
Associate Degree for Transfer
Bonifay—Quentin Baine, Dillon Edwards
Chipley—Trenton Balkcom, Caitlyn Woodby
Greenwood—TraDejsa Speights
Marianna—Megan Heinemann
Out-of-District—Lane Price of Crestview; Christopher Rexford of Panama City; Olga Santiago of Panama City; Cody Strauss of Tallahassee; Jackson Strauss of Tallahassee.