Chipola Employees Awarded for Service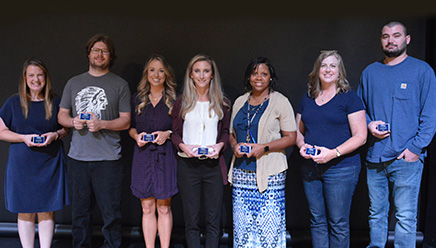 Employees of Chipola College were recognized for years of service during the first staff meeting of the school year on August 15.
Employees were awarded certificates in five-year increments. The following were recognized:
Five years: Cody Baxter, Shelly Blanchette, Ashley Harvey, Katherine Hayes, Annamarie Johnson, Mackenzie Johnson, Joshua Tetlow, and Stephanie Ward.
Ten years: Amber Bruner, Greg Franklin, Matthew Hall, Kurtis McInnis, and Connie Smith.
Fifteen years: Paige Vanderwerf.
Twenty-five years: Steve Young.
Thirty-five years: Willie Spires.
Cutline:
Chipola Photo
Pictured are five year employees, from left: Stephanie Ward, Joshua Tetlow, Mackenzie Johnson, Katherine Hayes, Ashley Harvey, Shelly Blanchette and Cody Baxter. Not pictured is Annamarie Johnson.