Chipola Wins Five Awards at National PBL Conference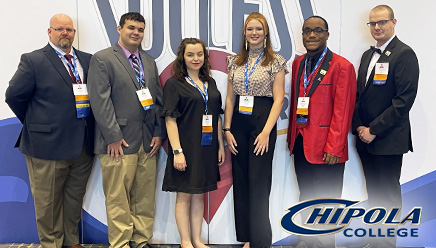 Students in the Chipola College Chapter of Phi Beta Lambda business fraternity brought home five Top-10 national awards at the PBL National Leadership Conference, June 24-27, in Chicago, Illinois.
Chipola winners include: Ashley Lytle, second in Future Business Educator; Chad Mayo, third in Client Services and fifth in Computer Concepts; Cullan Murray, eighth in Cost Accounting; Christopher Brockington, eighth in Impromptu Speaking. Angelina Hereld and Jeremy Thomason also competed.
More than 1,000 of America's best and brightest college students traveled to Chicago to compete for an honored spot on stage among the Top 10 and a share of more than $95,000 in cash awards.
Participants from across the United States attended this exciting conference to enhance their business skills, expand their networks, and compete in accounting, business, leadership and technology events. Students showcased their skills and knowledge in competitive events that involved objective tests, skills tests, prepared reports, interviews, speeches, role play scenarios, and presentations.
Chipola PBL adviser, Glenda Bethel, says, "Please join me in congratulating these students and all of our PBL members for their outstanding efforts this year. Our national competitors worked hard to prepare for the competition. Chipola PBL is a small but noteworthy chapter at state and national competitions."
For information about Chipola's PBL Chapter, contact Bethel at 850-718-2262.
Pictured from left, are: Chad Mayo of Bonifay; Cullan Murray of Chipley; Ashley Lytle of Blountstown; Angelina Hereld of Blountstown; Christopher Brockington of Malone; and Jeremy Thomason of Vernon.