Chipola's "You Can't Take it With You" is Feb. 24-26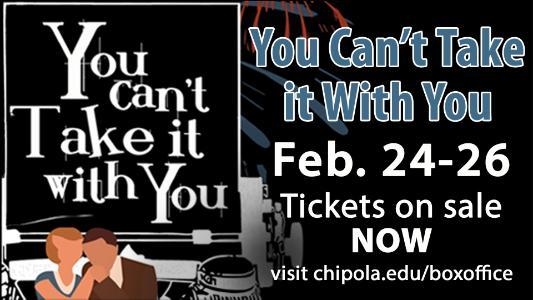 Chipola's Spring production, "You Can't Take it With You" is Feb. 24-25 at 7 p.m. and Feb. 26 at 2 p.m. at the Center for the Arts, Theatre.
Celebrating 75 Years of Chipola: We are bringing back to the Chipola stage the first play performed at CJC in 1951. Grandpa Vanderhof and his wacky family have been happily living their zany lives in his house by Columbia University for many years. This madcap group of eccentrics, march to the beat of their own drum, with pride and joy. Their hobbies include collecting snakes, building fireworks in the basement, writing plays that never get published, and taking ballet lessons. Things like stress, jobs, and paying taxes to the government are for other people, not for them! But when practical young Alice becomes engaged to Tony Kirby, the family must straighten up to meet the new in-laws. Disaster ensues when the Kirbys arrive at the wrong time and see Alice's family in all of its crazy glory. Can the two families find a way to accept each other and love conquer all?
Tickets may be purchased at the CFA Box Office or online at www.chipo!a.edu/boxoffice beginning Jan 30. ACT Fund members may redeem their tickets beginning Jan. 23. For more information, contact the Box Office at 850-718-2420. Tickets are $10 for adults, $6 for ages 18 and under, and free for Chipola staff and students.