Financial Literacy Seminar is Sept. 21 at Chipola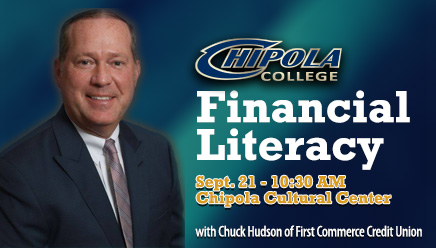 The Chipola College General Studies Department will host a Financial Literacy Program on Wednesday, Sept. 21, at 10:30 a.m. in the Chipola College Cultural Center.
The seminar is co-sponsored by the Chipola Black Student Union (BSU) and the First Commerce Credit Union
Chuck Hudson, Jackson County Executive of First Commerce Credit Union, is the guest speaker. The workshop will cover identity theft protection, budgeting and other financial literacy benefits. All students and employees are invited to learn about personal finance.
For more information, contact the Social and Behavioral Sciences office at 850-718-2319.