Chipola Artist Series Opens Sept. 19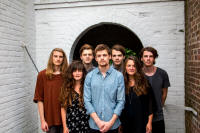 MARIANNA—The Chipola Artist Series opens Thursday, Sept. 19, at 7 p.m., with The Hunts, a Virginia-based band of seven siblings who've been playing harmony-laced folk music together almost their entire lives.
Twin sisters and five brothers, ages 19 to 28, play theaters, festivals and universities around the country. The group plays original songs and standards on mandolin, piano, ukulele, banjo, and drums. Their positive, original songs move audiences with uplifting themes. Learn more at www.thehuntsmusic.com. A Meet the Artist Reception will be hosted by Tyndall Federal Credit Union.
On Oct. 24, A Nashville Legacy performs the music of Floyd Cramer, Chet Atkins and the Nashville Sound. More at www.jasoncolemanmusic.com.
Glenn Miller Productions presents a review of the great Big Bands during the 1930's, 40's and 50's with Jukebox Saturday Night on Jan. 9, 2020. More at www.facebook.com/jbsaturdaynight.
The season rounds out March 5 with Ventriloquist/Comedienne Lynn Trefzger. She has appeared on ABC, TNN, A&E, and Lifetime. Learn more at www.lynnt.com.
Season tickets—$60—include reserved seating and Meet the Artist receptions. Single tickets are $20 for adults, $10 for children under 18, and $5 for Chipola students and employees.
Call 850-718-2420 or visit www.chipola.edu/boxoffice.