Cast Announced For Chipola's "9 To 5 The Musical"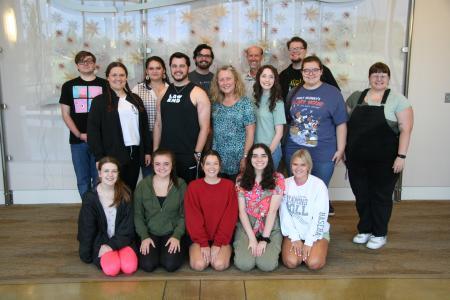 Chipola College Theater Director Raines Carr recently selected the cast for the fall production "9 to 5 the Musical" which will be presented October 22, 24 and 25 at 7 p.m. and October 23 at 2 p.m.in the Center for the Arts Theatre.
The cast includes: Emma Rines (Violet), Kayleigh Register (Doralee), Lauren Chesnut (Judy), Tyler Kent (Hart), Clara Walter's-Medina (Roz), Chandler King (Joe), Anthony May (Dwayne), Torie Kanes (Kathy), Victoria Kelly (Maria), Leah Lewis (Margaret), Emma Reagan (Missy), George Roulhac (Bob), Matthew Baker (Dick), Trevor Shelton (Josh), Mackenzie Davis (Detective), Beth Kidd (Doctor), Rebecca Mays (Candy Striper), Jerry Conyers (New Employee), and Caden Kearns (Tinsworthy).
Set in the late 1970s, 9 to 5 the Musical is a hilarious story of friendship and revenge in the Rolodex era that is outrageous, thought-provoking and even a little romantic. Pushed to the boiling point, three female coworkers concoct a plan to get even with the sexist, egotistical, lying, hypocritical bigot they call their boss. In a hilarious turn of events, Violet, Judy and Doralee live out their wildest fantasy – giving their boss the boot! While Hart remains "otherwise engaged," the women give their workplace a dream makeover, taking control of the company that had always kept them down. Hey, a girl can scheme, can't she? This show contains adult content and may not be suitable for children.
Tickets may be purchased at the Chipola Box Office or online at www.chipola.edu/boxoffice beginning Sept. 26. ACT Fund members may redeem their tickets beginning Sept 12. Tickets are $10 for adults, $6 for ages 18 and under, and free for Chipola staff and students. For more information, contact the Box Office at 850-718-2420. Box Office hours are Monday – Thursday, 9 a.m. – 4 p.m. and Friday, 9 a.m. – Noon.