Chipola Artist Series Presents 'The Queen's Cartoonists' Sept. 8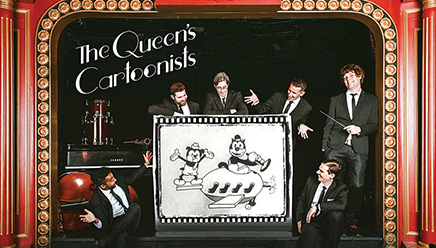 The Chipola 2022-23 Artist Series opens Thursday, Sept. 8 with The Queen's Cartoonists. The show starts at 7 p.m. in the Center for The Arts Theatre.
The Queen's Cartoonists play music from classic cartoons and contemporary animation. The performances are synchronized to video projections of the original films, and the band leads the audience through a world of virtuosic musicianship, multi-instrumental mayhem, and comedy.
The Queen's Cartoonists present a concert for everybody - regardless of age, gender, or familiarity with the concert hall. Tying this diverse concert together are comedic anecdotes involving the cartoons and their composers. The band is on a musical mission of equal parts performance, preservation, and education. Expect the unexpected from repertoire that includes the Golden Age of animation, cult cartoon classics, modern animation, and elements of a musical circus! For more information about The Queen's Cartoonists visit, thequeenscartoonists.com.
Tickets for The Queen's Cartoonists are on sale now. Single event ticket prices are $20 for adults, $10 for children under 18, and $5 for Chipola students and employees. Season tickets are also available for $50. Season ticket holders receive reserved seating renewal privileges for the next season.
Other Artist Series performances include Masters of Soul on the October 27 and Jeki Yoo on February 28.
For more information, call the Center for the Arts Box Office at 850-718-2420 or visit www.chipola.edu/boxoffice. Box Office hours are Monday – Thursday, 9 a.m. – 4 p.m. and Friday, 9 a.m. – noon.