Chipola Artist Series 2022-2023 Season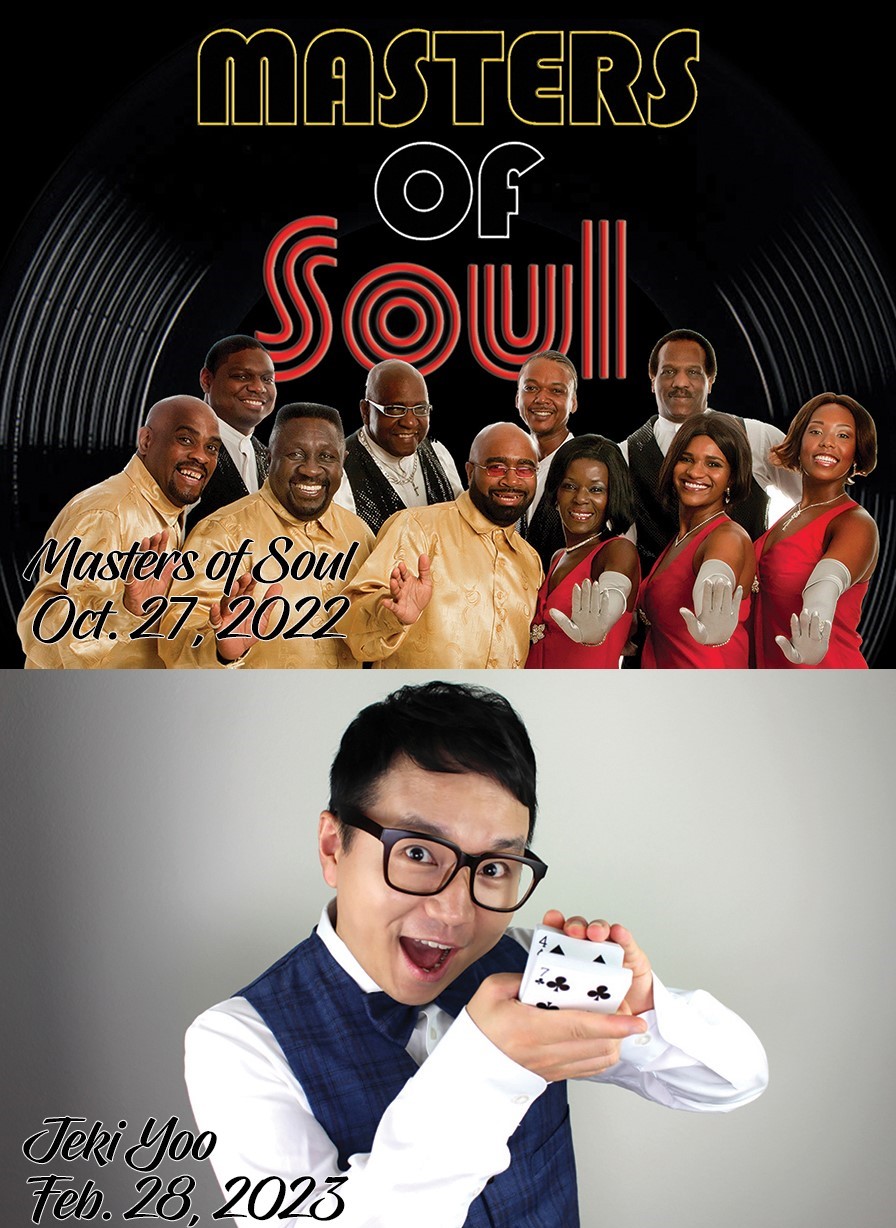 The Chipola College 2022-23 Artist Series season continues on Thursday, October 27 with Masters of Soul. Motown and its legendary sound take center stage with all of its incredible harmonies and smooth moves when Masters of Soul performs. The show is a tribute to the artists who defined an era in our country's history that produced many of the greatest music acts ever recorded: The Temptations, Four Tops, Diana Ross & The Supremes, Marvin Gaye, Tammi Terrell, Smokey Robinson and James Brown. For many, Masters of Soul is the ultimate stroll down memory lane. For younger generations, the show offers an opportunity to experience the sound, the costumes, the dance moves of Motown and soul that became the fabric of the 1960s and 1970s.
The season rounds out on Tuesday, February 28, 2023 with "The Cutest Magician of All Time" JEKI YOO. Over 13 million people watched Korean Magician Jeki Yoo on America's Got Talent as he performed his own unique style of close-up magic. Jeki won the hearts of a nation. As a high school student, Jeki Yoo won Asia's greatest magic contest, The Busan International Magic Festival. His magic was innovative, inspired other magicians, and roused applause from audiences around the globe with its fresh originality. Jeki won a close-up magic award from the International Brotherhood of Magicians, the world's largest organization of ma­gicians. Since then, Jeki and his magic have wowed audiences in England, France, Sweden, Italy, Japan, China, Scotland and many other countries.
Tickets are on Sale now at the Chipola Box Office. Season Tickets are $50. Single event tickets are $20 for adults, $10 for children under 18, and $5 for Chipola students and employees. Season ticket holders receive reserved seating renewal privileges for the next season.
For more information, call the Center for the Arts Box Office at 850-718-2420 or visit www.chipola.edu/boxoffice. Box Office hours are Monday – Thursday, 9 a.m. – 4 p.m. and Friday, 9 a.m. – Noon.