Kanes Selected FCSAA Theatre Student of The Month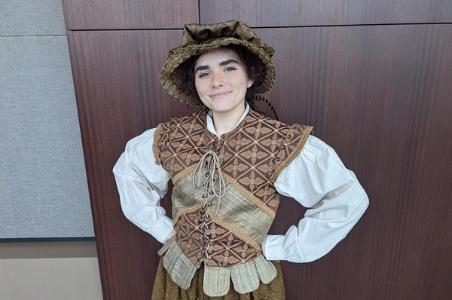 Chipola College sophomore Victoria Kanes was selected as the Florida College System Activities Association Theatre Division Student of the Month for August 2022.
Kanes is enrolled as a Theatre Performance major and was nominated by Chipola College Theatre Director Raines Carr.
"Victoria began work at Chipola College as a dual-enrolled senior in high school and immersed herself into all the theatrical work being done at the college. She performed in three shows her first year and worked tech for several others. She assisted in designing costumes for our children's show, Charlotte's Web which had over 2500 children attend. Now in her first full semester at Chipola, she has been cast in the fall musical, 9 to 5, and was awarded a theatre performance scholarship and a costume shop assistant scholarship." Chipola Theatre Director Raines Carr said.
"Victoria's leadership skills were evident the moment she walked onto campus. She is a veteran theatre maker and fits right into our classes and productions here at Chipola. She always offers help and suggestions to solve the myriad of problems that arise in mounting a theatrical production. She takes on daunting tasks by herself and is more than willing to lend a hand to anyone in need of help. Her work in class has grown exponentially in the past year and she has opened herself up to learning and growing in this art form. She wants to make a career in the theatre and there is nothing stopping her from achieving that goal. She is self-motivated and understands the sacrifices this art demands."