Chipola Theatre Tech Students Go to Work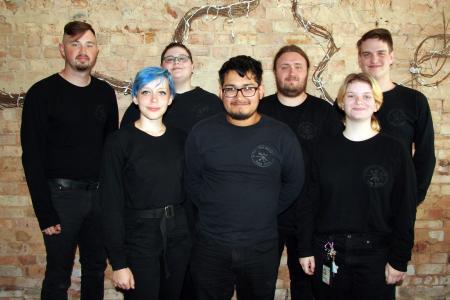 Chipola College technical theatre students will go to work this summer in Florida, Georgia, and Virginia. To enhance their work experience, technical theatre students are encouraged to work in theatres across the country during the summer. "Our students go through an extensive interview process to work with these professional theatre companies. They are hired based on their portfolio of the work they produce for theatre productions, Show Choir/music productions and work with professional artists visiting our stage," said Director of Technical Theatre Connie Smith.
From left to right: (Front Row) Tayla Robarts of Bristol will be working as a general technical intern for Shenandoah Summer Music Theatre in Winchester, Virginia; Gabriel Tirado of Ozark, AL will be working as an audio engineer for the Peach State Summer Theatre at Valdosta, GA; Luci Sloan of Sneads will be working as a props assistant with Shenandoah Summer Music Theatre; (Back Row) Drake Miller of Ozark, AL will be working as a master electrician for the Peach State Summer Theatre; Alison Tindall of Blountstown will be working as a stagehand for Southern Lights: Search for a Star in Marianna; James Kidd of Bascom will be working as a private carpenter; and Aaron Whitfield of Marianna will be working in a lighting/sound swing position for the Peach State Summer Theatre.
For more information about the Chipola College Theatre Technical Production program, contact Connie Smith at smithc@chipola.edu. Scholarships are available for this program. Apply today at www.chipola.edu/fineartsscholarships.