Enroll Now in Chipola's Network Security Program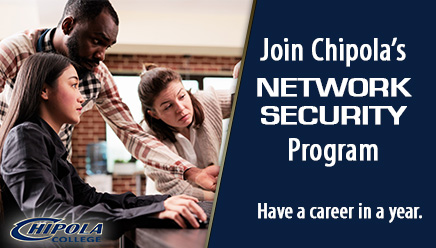 Chipola College is seeking students for its new, state-of-the-art Network Security program.
Students can complete a 30-credit hour certificate in Network Security that then leads into an Associate of Science degree.
This program prepares students for entry-level positions as network security personnel. Content includes topics and skills emphasized in various industry certifications including the CompTIA A+, Security+, and Network+ as well as various Microsoft network certifications.
The program can be completed in three semesters. Students interested can apply for scholarships at chipola.edu.
For more information, visit chipola.edu or call 850- 526-2761.