Scholarships Available for Chipola Workforce Programs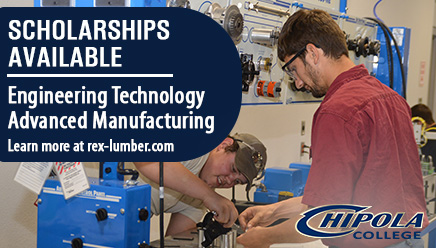 New scholarships will be awarded for use during the Fall 2022/Spring 2023 semesters to applicants planning to pursue an education in Engineering Technology or Advanced Manufacturing Production Technology.
Multiple scholarships will be awarded by Rex Lumber's Graceville and Bristol plants. Applicants will be given priority consideration if they are current or recent graduates from the high schools within Chipola's five-county district: Liberty, Calhoun, Jackson, Washington, and Holmes counties. Children of Rex Lumber employees are eligible after the employee's first full year of employment.
Applicants must have a minimum 2.5 high school GPA and maintain a 2.5 GPA at Chipola to retain the scholarship.
The Robert and Kathryn McRae/Rex Lumber Scholarships may be used for up to 30 semester hours of tuition and/or books and supplies. The Fall 2022/Spring 2023 first-year scholarship recipients are eligible to reapply for the scholarship for use during the second year. Second-year funding is based upon prevailing economic conditions and the student's performance in the program.
Completed applications must be submitted to the Chipola College Foundation, 3094 Indian Circle, Marianna, FL 32446. Applications are available at https://rex-lumber.com/chipola-scholarship.html
Students who excel in the Engineering Technology program may be eligible for paid internship positions within Rex Lumber.
For more information about Chipola workforce programs visit, www.chipolaworkforce.com.