Theatre Technical Production Program
Chipola College offers the first two years of theatre curriculum leading to an AA degree in Theatre Technical Production or a transferrable AS degree in Theatre and Entertainment Technology.
Chipola College is well known throughout the Southeast for its excellent arts education and programming. Serving more than 6,500 patrons yearly, Chipola Theatre has a tradition of superior ratings by the Florida College System Activities Association.
Technical Production consists of all the aspects of theatre that enhance the story being told. From sets and lighting to costumes and audio, these areas work together in a production to establish the place, time period, and mood of the production.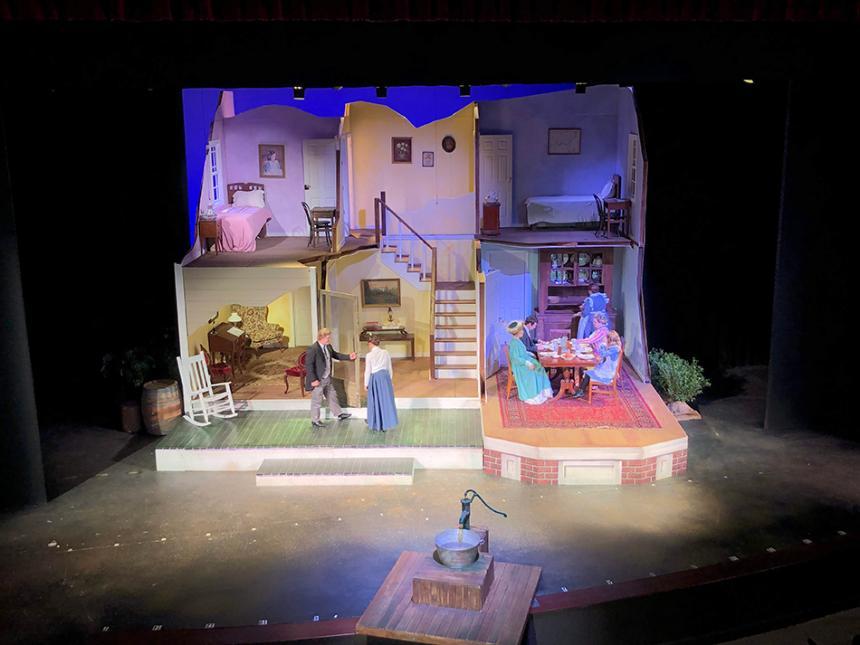 During the two-year curriculum, students learn about the creative design process, from script through post-production, and how those designs are translated into physical structures, sound and lighting for the theatre.
The Technical Production program provides rigorous academic instruction, hands‐on practical training, and experiential learning in several areas of technical theatre production. Through coursework as well as practical work on theatrical productions, students are trained in Stagecraft, Stage Lighting, Stage Sound, Scenic and Prop Construction, Stage Management, Scenic Painting and more. Students will work with advanced technology and materials in the use of intelligent lighting systems, audio equipment, video projection equipment, stage machinery, and set construction. Students are encouraged to apply for summer theatre jobs as soon as they begin the program and are mentored in building and maintaining their professional career.
Students completing this program may immediately enter the workforce as tradesmen or can continue to pursue a bachelor's degree in theatre production at a college or university.
Academic Plans
Academic Plans are educational plans outlining courses of study for specified majors designed to help the student complete a degree in a timely manner. The plans are updated each academic year with the most current information available from the universities.
Academic Plans are specific to the university where a student plans to transfer. Universities change their requirements regularly. While academic advisors, faculty and staff provide significant academic planning and related assistance to students, completion of all degree requirements, and the process of monitoring progress to that end, is ultimately the responsibility of the student.
Theatre majors should contact a member of the theatre faculty for registration.
Course Syllabi
A course syllabus is an academic document that communicates information about a specific course and explains the rules, responsibilities and expectations associated with it. A course syllabus outlines connections between learning outcomes and content, as well as pedagogical practice to guide students in their learning.
Technical Production Scholarships
Chipola College offers scholarships to talented high school graduates with acceptable academic records, theatrical aptitude and technical skills who plan to pursue studies as majors.
Scholarships in various amounts, up to full tuition and fees, are awarded on the basis of talent and academic record. Students with financial need may seek additional assistance through the college's Office of Financial Aid and the Chipola Foundation.
All technical production candidates must interview with the Director of Technical Theatre.
Applauding Chipola Theatre Fund
Purchase an ACT Fund Membership Today!
ACT funds are used to directly support the Chipola College Theatre Department as they seek to grow, challenge, dazzle, and of course, entertain you. ACT Fund Members have early access to reserve their tickets. Members MUST call the Box Office to reserve their speciific show tickets for the performance date they wish to attend. Individual show tickets are not guaranteed with a membership - so take advantage and call early!
Membership Levels
Corporate Angel
$300.00 (Reserve up to 12 seats for season*)
Angel
$100.00 (Up to 8 VIP seats for season*)
Benefactor
$75.00 (Up to 6 VIP seats for season*)
Patron
$50.00 (Up to 4 VIP seats for season*)
Sponsor
$25.00 (Up to 2 VIP seats for season*)
A portion of your gift is tax deductible through the Chipola Foundation.
*Total number of tickets are for the entire season - not per show.
An ACT Fund Membership may be purchased online or at the Chipola College Box Office
located in the lobby of the Dr. Gene Prough Center for the Arts. For more information, call the Box Office at 850-718-2420.
Box Office
Tickets for Chipola College productions may be purchased online or at the Chipola College Box Office located in the lobby of the Dr. Gene Prough Center for the Arts.
9 a.m. - 4 p.m. Monday - Thursday
9 a.m. - noon Friday

The Box Office opens one hour before each performance and is closed on college holidays.
Call the Box Office at 850-718-2420.
Our online ticket sales are processed through the Ludus Ticketing System.