Chipola College offers the first two years of music curriculum leading to a degree in Music Performance, Music Education, Music Therapy and other music majors upon transferring to a four-year institution.
Music majors may pursue voice study or instrumental study at a principal or secondary level performing a wide variety of literature. Non-music majors may also register for voice and instrument lessons, including piano and guitar lessons.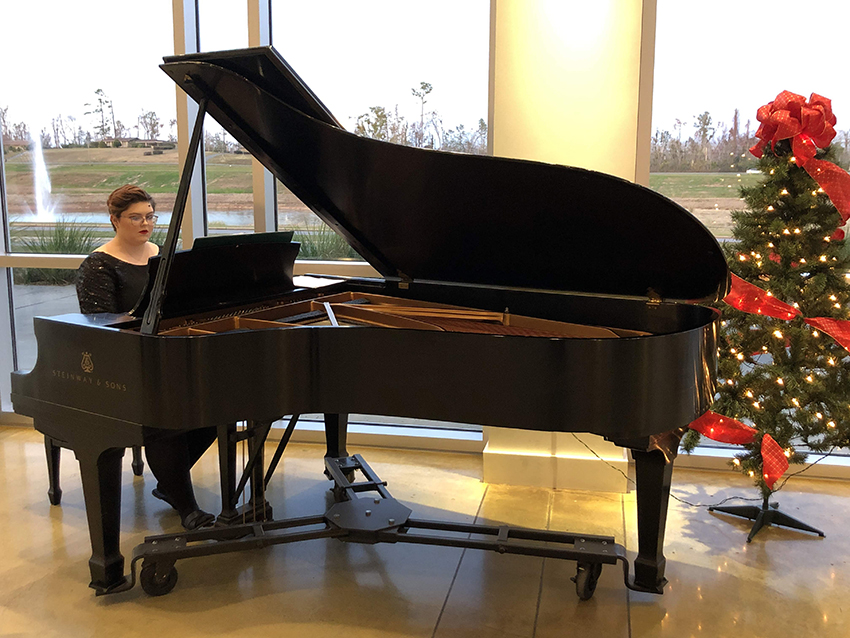 Chipola College offers a wide variety of performance experiences in campus productions as well as community performances. College ensembles and performance opportunities include College Chorus, President's Ensemble, Rock & Jazz Band, Wind Ensemble, Show Choir, and Musical Theatre. Non-music majors are also welcome to participate in college ensembles.
Academic Plans
Academic Plans are educational plans of courses of study for specified majors designed to help the student complete a degree in a timely manner. The plans are updated each academic year with the most current information available from the universities.
Academic Plans are specific to the university where a student plans to transfer. Universities change their requirements regularly. While academic advisors, faculty and staff provide significant academic planning and related assistance to students, completion of all degree requirements, and the process of monitoring progress to that end, is ultimately the responsibility of the student.
Music majors should contact a member of the music faculty for registration.
Course Syllabi
A course syllabus is an academic document that communicates information about a specific course and explains the rules, responsibilities and expectations associated with it. A course syllabus outlines connections between learning outcomes and content, as well as pedagogical practice to guide students in their learning.
Music Scholarships
Chipola College offers scholarships to talented high school graduates with acceptable academic records and music aptitude who plan to pursue studies as music majors.
Scholarships in various amounts, up to full tuition and music fees, are awarded on the basis of talent, academic record, and musicianship. Students with financial need may seek additional assistance through the college's Office of Financial Aid and the Chipola Foundation.
All candidates must audition before a faculty committee of the Music Department.
Chipola Show Choir
Chipola College offers a wide variety of singing and performing experiences, no matter what the student's academic goals might be including participation in the exciting Chipola Show Choir. The Show Choir presents an exciting stage show with popular music set to energetic choreography. Its members are selected through an audition process and you do not have to be a Fine Arts major to participate. Scholarships are available.
For more information, contact:
Angie White
Show Choir Director and Music Faculty
email: whitea@chipola.edu
850-718-2376
Box Office
Tickets for Chipola College productions may be purchased online or at the Chipola College Box Office located in the lobby of the Dr. Gene Prough Center for the Arts.
9 a.m. - 4 p.m. Monday - Thursday
9 a.m. - Noon Friday

The Box Office opens one hour before each performance and is closed on college holidays.
Call the Box Office at 850-718-2420.
Our online ticket sales are processed through the Ludus Ticketing System.